Be forewarned. Old House Gardens is addictive and leads to mental wanderings. Especially if, like myself, you're restoring an old property, or just looking for heirloom plants.  Thus I learned of the 2013 Garden Blogger Awards, took the detour, and discovered some new sources.
Let's start with two of the 2013 Garden Bloggers runners-up.

I don't know how this mother-of-four, Jennifer Ebeling, manages to find the time, but her blog is jammed with reference materials, homekeeping how-tos, and she even posts a podcast!
Thanks to 6ftmama.com, I discovered that another overachiever, Deborah Madison, has a new book out.
I was fortunate to have grandparents who farmed and gardened. (My maternal grandfather always kept an almanac and swore by planting by the phases of the moon.) I learned a lot about companion planting and soil conditioning, but alas, this knowledge is lost to many. Haven't read it yet, can't review it yet, but, Vegetable Literacy promises to be a book that will fill some missing chapters in your basic garden lexicon.  (And besides, it's beautiful.)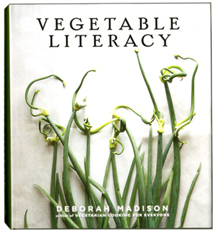 ——————————————————————————————–
I admire Dee Nash's yes-I'm-talking-to-you writing style, and her lucid observations of nature. You're going to get schooled in a loving way.  Consider the title of her latest book:
 The 20-30 Something Garden Guide: A No-Fuss, Down and Dirty, Gardening 101 for Anyone Who Wants to Grow Stuff
Ah, but I promised to cover the "Best Of" for 2013.
——————————————————————————————————–
Best New Blog: BorntoGrow.net by Paul Dysinger.
Dysinger is an organic farmer from Tennessee who bills his website as "an online gardening university."  It's a nicely organized compendium of garden knowledge, problem-solving techniques, and information sharing. You can read more about his family and their business here:  http://bountifulblessingsfarm.com/the-farmers/farm-history/.  (Nice people.)
——————————————————————————————————-
Best Design and Photography: BeyondtheWildGarden. David Corscadden.
A UC Davis horticulture graduate, Corscadden aspires to create an interactive garden site and develop a career in "the literature side of horticulture."
—————————————————————————————————–
Although the site's motto appears to be "Shut Up and Dig,"  there's a lot of blabbing by multiple authors. Perhaps the posting on shotgun gardening will provide a representative sample:
Off-beat, cranky, arcane and fun.  Useful for entertainment and a gardening culture "slice of life."
——————————————————————————————————-
Not surprising that Margaret Roach would take a top spot.  She's been writing for Martha Stewart Living for years.  Here's a blog where you will find information on gardening topics that are too in-depth for the average magazine article.  Just yesterday Roach published an interview with Bill McDorman of NativeSeeds/SEARCH focusing on the adaptability and variety of heirloom seeds.
Good stuff.
———————————————————————————————————–
Hope I offered something new in this excursion. You're on your own now.
I'm returning to Old House Gardens.  Great grandma had some kind of China rose behind that old lilac…
Happy New Year.